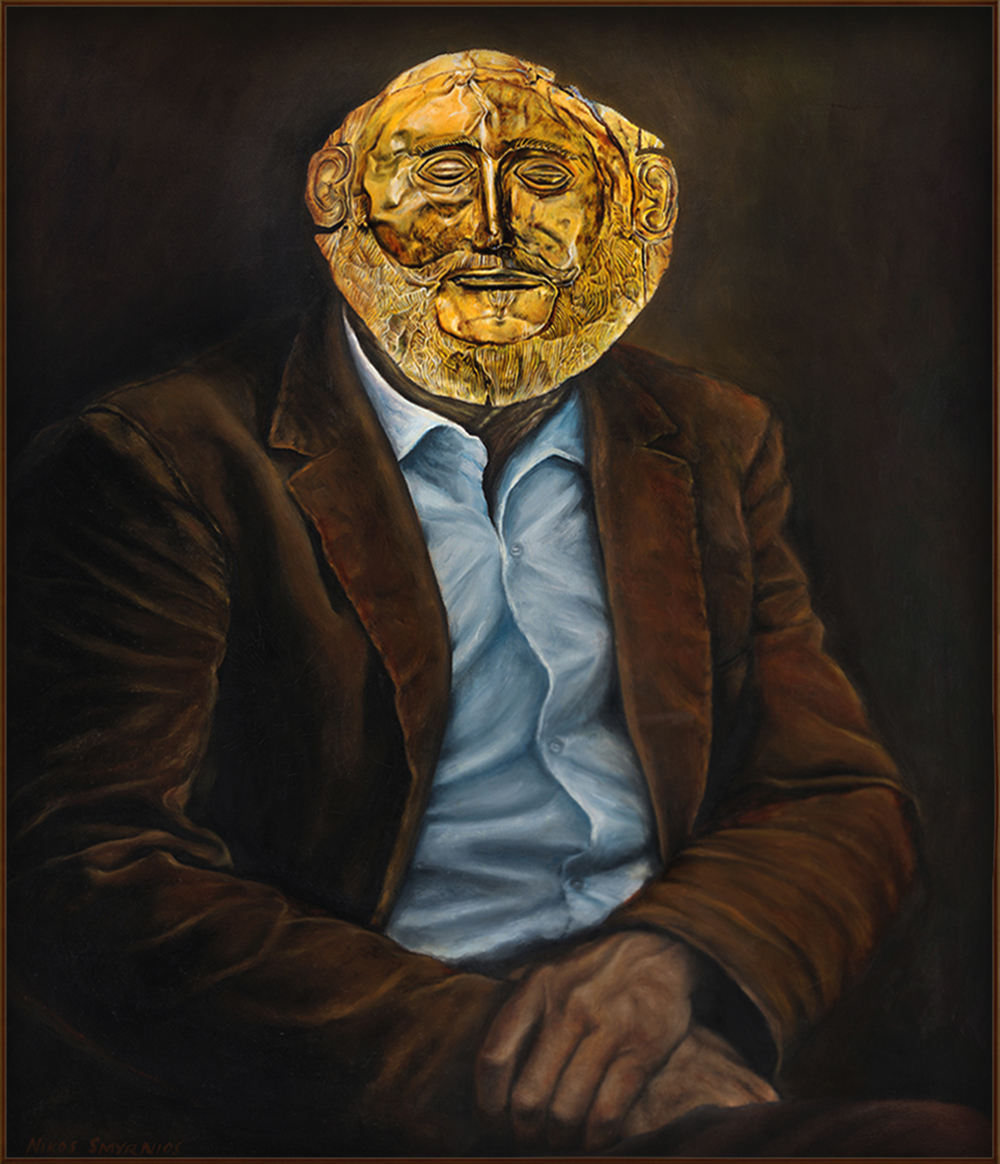 – Roll over image to zoom in –
The eternal Greek, oil on canvas, 84 x 66 cm, 1983.
Imperiously he gazes forward, sitting with his legs crossed in the same manner as the old people outside the coffee shops of the central village square on the Greek country side. His arms rest on his upper knee with the fingers crossed (a posture that suggests calmness and confidence).
He is wearing a white shirt with the collar unbuttoned under his worn out brownish jacked that underlines his unaffected, lower-class appearance. Everything about him is ordinary; everything but his face which is covered with a golden death mask, known as the Mask of Agamemnon (1500 BC) and was found by Heinrich Schliemann during his excavations at Mycenae in 1876.
The mask, paying total respect to the original, is rendered with photorealistic accuracy. It replaces the man's facial characteristics in total harmony with the rest of his appearance. Despite the fact that the figure is depicted beyond all naturalistic principles, its' almost smiling expression lends verve, normality and even grandeur to the aged man.
The same occurs with his eyes. They are stylized and very small compared to the rest of the facial characteristics, but you feel as if they stare at you intensively, as if they can see through you with persistence.
The rest of the lines, fissures and natural wear on the sheet of gold simulate wrinkles or other typical signs of time on a thin masculine face. Nevertheless, the precious metal hasn't lost any trace of its initial sheen through the ages.
Keywords: smyrnios, oil painting, eternal, greek, death mask, agamemnon, golden, mycenae, ancient, realism, brown